Yippee! Today is one of our favorite days of the year. Although, any day with a box in it, is a favorite for us and most kitties. They're great to sleep in, play in, nibble on and shred. We don't have any decent, empty boxes around right now. Our humans recycle and the present delivery man hasn't stopped by in a while. So Mom is repurposing some photos from the past by putting them in a collage.
Only four of us made it into today's post. Lily Olivia and Astrid, our two box-obsessed sisfurs, got two photos each.
We are joining our friends and hosts, Peaches and Paprika and Luke from Wag 'n Woof Pets in celebrating today.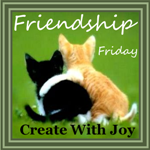 We also ar joining up with Magellan and Tsunami at Create with Joy for their Friendship Friday Blog Hop. We can't think of anything more friendly than sharing a box.
Please join Kitties Blue tomorrow as we celebrate Calista Jo's third birthday. There will be some BlogPaws loot up for grabs for those who leave a comment.
And our Sunday Selfies Blog Hop will be a special Father's Day edition. Please take the opportunity to ask your dad to share your selfie or post one of him alone. We know some of our friends don't have dads, so this is NOT a requirement to participate.
Happy International Box Day!
Purrs and paw-pats, Lily Olivia, Mauricio, Misty May, Giulietta, Fiona, Astrid, Lisbeth and Calista Jo