The day after Christmas is a holiday celebrated in Britain, Australia, New Zealand, Canada, and other Commonwealth countries. It is known as Boxing Day. It is also the Feast Day of St. Stephen and originated as a day for giving alms to the poor and gifts to tradespeople.
But for kitties, in every country, it is a day to plop their fuzzy butts in boxes, usually those of the cardboard variety. As we don't post on Mondays, we missed sharing some boxing photos on the official Boxing Day. But Kitties Blue do enjoy celebrating this holiday as much as the next cat. This year Giulietta is representing for us.
The final photo shows how Giulietta spent all of Christmas day.
Though we've been a bit wordy, we are participating in these Wordless Wednesday blog hops.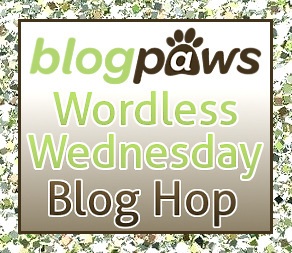 We also are joining a special tribute to and blog hop for woofie Easy Weimaraner.
Easy, unexpectedly and tragically, flew off to the bridge just before Fiona and our dearest friend Sammy. It has taken several weeks, but Easy is finally back home with his mom and dad. Today has been selected to remember him with a blog hop. It is being hosted by Dory's Backyard. If you wish to participate, you can link a special "Lighting the Way" blog to honor Easy.
And do not forget to visit Easy's blog after joining the hop. If you haven't met Da Phenny (3.5-month-old Weimaraner), you are in for some hearty laughter.
We will be back tomorrow with a "C" poem for Sammy's Throughly Poetic Thursday.