Calista Josette has three precious, grey tabby siblings who need good and loving homes. Bobby is the male and Ellie and DeeDee the females. The link below will take you to the web-site where you can read more about them and link to some YouTube videos as well. All are good with dogs! They also have had all their immunizations and have been spayed or neutered. Calista is a sweet-natured kitty who loves to purr and snuggle with both humans and other felines. She's in my lap right now doing both.
However, if you read my post, "What A Mess," about Calista trashing this site, you might be a little hesitant about adopting one of her siblings. So as a caution I must say, keep all kitty paws away from your computer. I have a tale involving Misty May and Tom's laptop that I will share with you some other time.
The kittens have been raised by the same foster mom who raised Calista Jo, Diane Novak, from Barn Cat Buddies of Hardy, VA. So, I know that Bobby, DeeDee and Ellie are all great kitties. I hope one of these sweet babies will steal your heart.
http://www.barncatbuddies.org/animals_for_adoption.htm
DEEDEE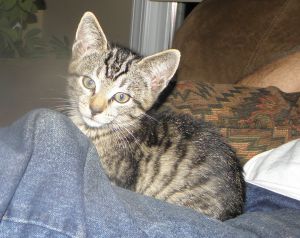 BOBBY